In 1991 the Borobudur was added in the UNESCO world Heritage list. Regardless if you are interested in architecture, religion or culture, it's impossible to ignore the achievement of the builders of the Borobudur, which is one of the wonders of Asia.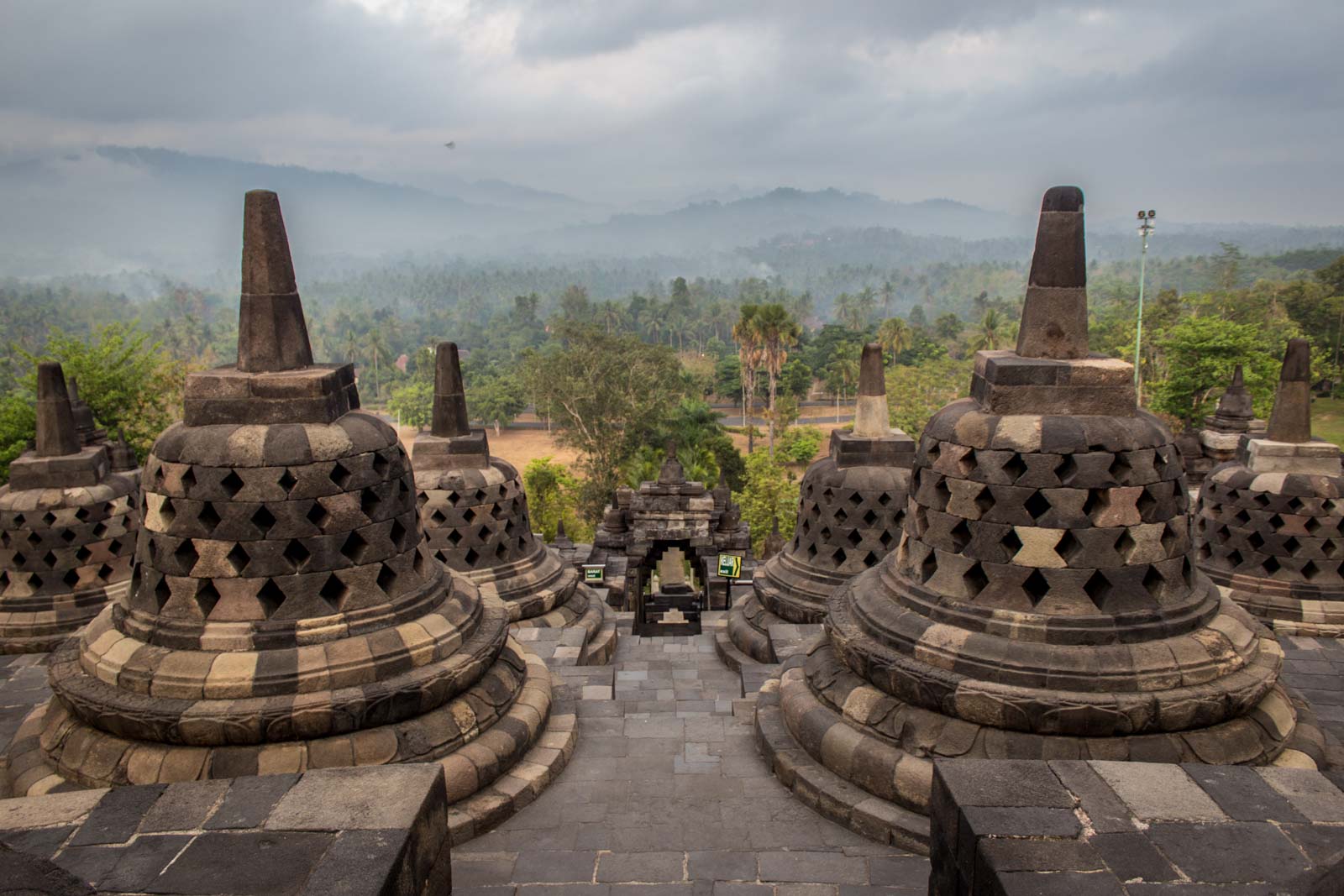 The Borobudur was build in the 9th century. Imagine a tropical kingdom were people mostly lived from agriculture and trade. Most of the land is still jungle with the twin volcanoes Sundoro-Sumbing and Merbabu-Merapi, and two rivers, the Progo and the Elo nearby.
When a pilgrim starts the journey, the goal is to reach a form of enlightenment when reaching the top. This requires a certain mindset but it is certainly true the monument has an effect on you.
When in 1991 I visited very early in the morning, I was mostly alone. It seldom happens you will have the Borobudur for yourself. Most visitors go directly to the top of the monument but in fact it is far more rewarding to walk the corridors and walk through darkness into the light of the open air at the top where the Buddhas under their stone stupas keep an eye on you.
It's not an easy life people have here. The volcanoes are active and the jungle is full with dangerous animals.  candi borobudur  
The king is like a god. Tools used are basic. And then the king says he wants to build a monument. It seems an impossible task.
Although few know it, the original name of the construction has been lost in time. It was Sir Thomas Raffles who wrote down in a book about Javanese history the name Borobudur. It means "nearby village of Bore. Some suggest Budur has links to Buda, the Javanese word for ancient. Others suggest Budur comes from Javanese term bhudhara: mountain.
Whatever the origins of the name are, even today the Borobudur is an impressive monument. When I visited in 1991, I was amazed by the colossal building which represents a 3 dimensional mandala, simultaneously representing the Buddhist cosmology and the nature of mind.
The idea is to walk in, and follow the corridors to the top level. It's about 5 km total distance. As with all Buddhist constructions, temples, stupas etc, you have to walk clockwise. The journey for pilgrims begins at the base of the monument and follows a path circumambulating the monument while ascending to the top through the three levels of Buddhist cosmology, namely Kamadhatu (the world of desire), Rupadhatu (the world of forms) and Arupadhatu (the world of formlessness).
Peter van der Lans is a Dutchman who lives these days in Sitiawan Malaysia. After years of traveling, he cycled from Holland to Malaysia, stayed a months in the Middle East, a year on the Indian Subcontinent and 2 years in China plus a year in the UK, he settled himself in Malaysia.